Why delete traces of PC use? The issue of Privacy is very controversial. Many feel the need not to make their actions public, but not for doing anything wrong! Using the PC, you always leave a lot of traces. Traces can be found inside the PC, but also outside: from internet service providers and from the manufacturers of the software we use in the PC.

In this article I explain how to delete traces of pc use: recent data, file history in Word, Excel and other Microsoft Office applications, cookies and internet browsing data and other traces present within the computer.
To erase all recent data and traces of PC use in one fell swoop, I also suggest an app, very simple to use.
Clear recent files in Windows 10
Windows keeps track of recently opened documents. It is a very convenient function: you can quickly open the documents you are working on, without looking for them in the various folders of the disk.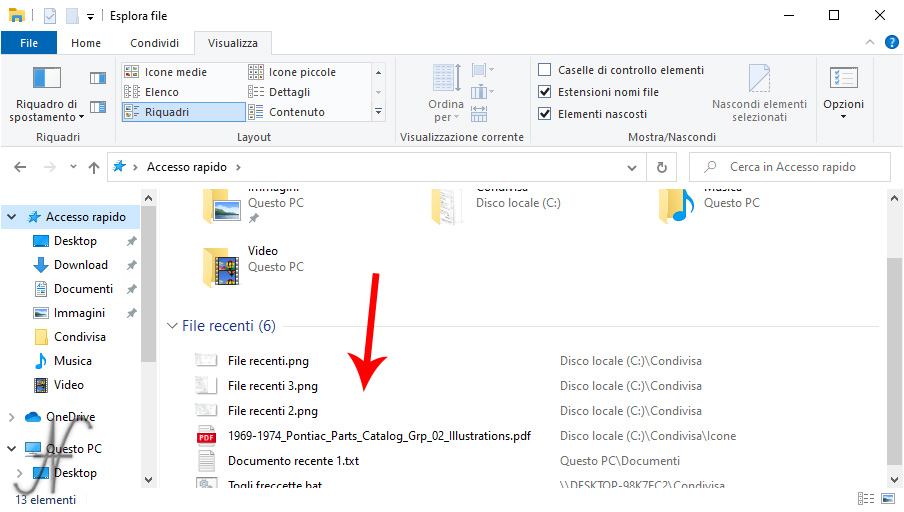 This convenience is contrasted with a reduction in privacy: anyone with access to the computer account, can see what we are working on. Deleting the list of recent files is very simple: from the File Explorer you have to click, with the mouse, on the tab View and then on Options.
From the window that opens, on the General, there is a section Privacy. You can press the Cancel to clear the history of File Explorer. To disable the Windows 10 feature that shows recently opened files, you can uncheck from Show recently used files in Quick Access and yes Show recently used folders in Quick Access.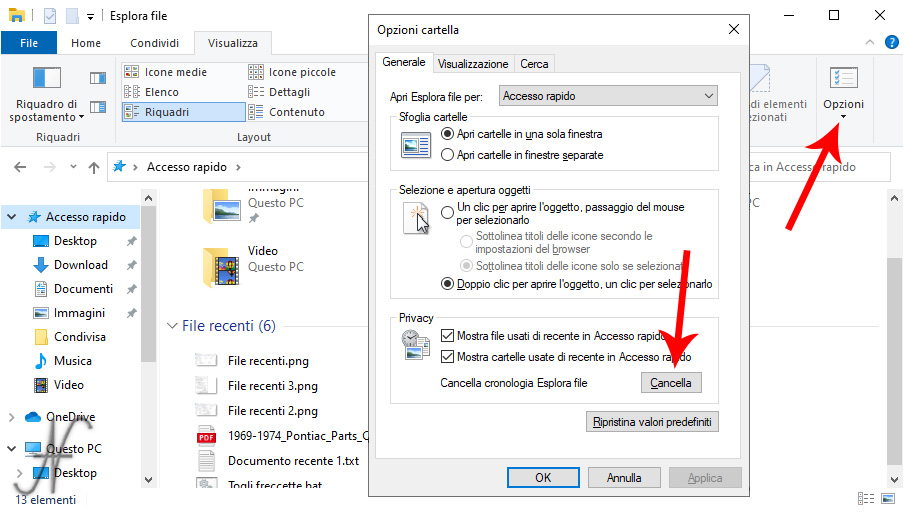 Although you can delete and disable the File Explorer history, the list of recently opened documents still appears in Microsoft Word, Excel, in short: in the various Microsoft Office applications.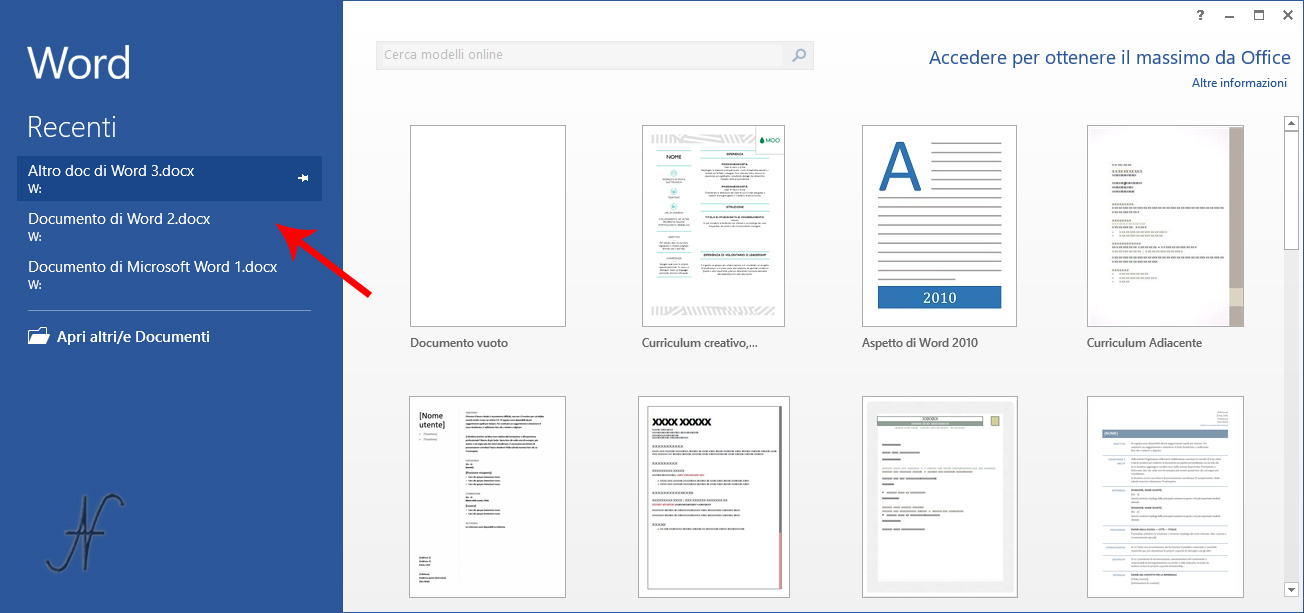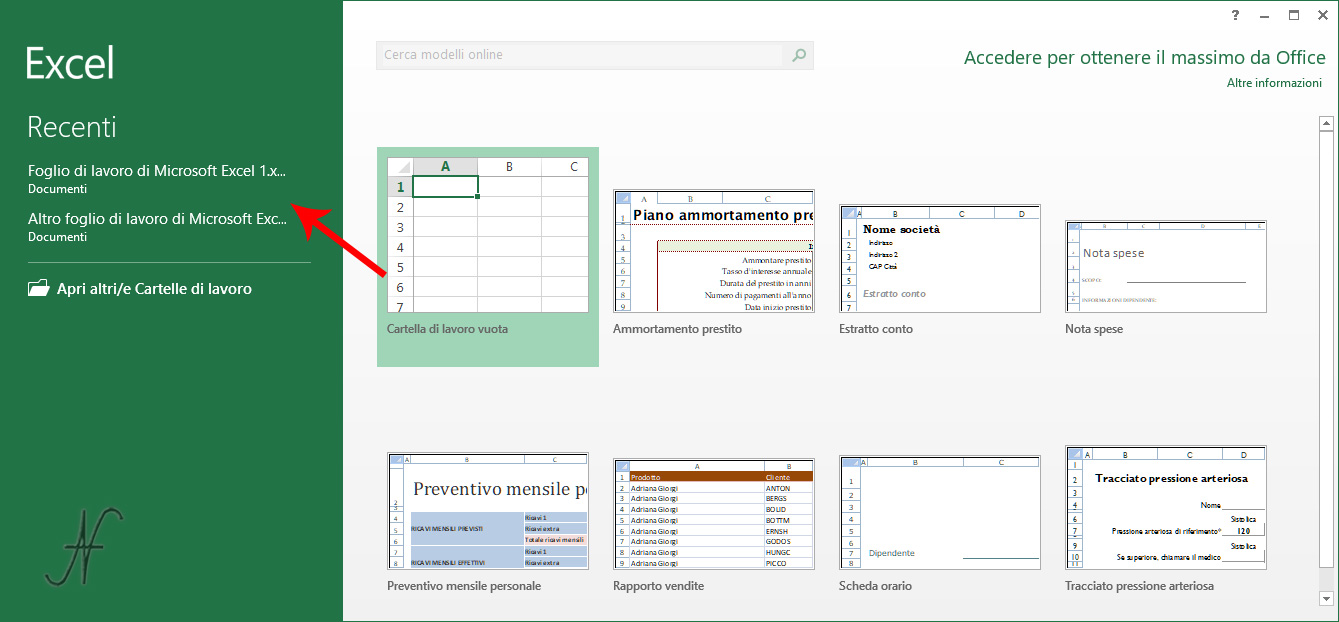 At this point it should also clear or disable the history of recently opened files in Microsoft Word, Excel And also in the other Microsoft Office apps.
What about your internet browsing data history? Cookies?
By acting manually, it would take a long time to erase the traces of use of each app installed on the PC.
Erase traces of PC use, with Wise Disk Cleaner, in one fell swoop
Fortunately, to delete traces of PC use, recent data, cookies, internet browsing data and other traces on the PC, some applications can help us. A very famous one is CCleaner, which lately has some problems with Windows Defender.
Personally, I chose Wise Disk Cleaner. First of all, it is free. It is also possible to download it in portable format from portableapps.com.
Downloading Wise Disk Cleaner in portable format allows you not to have to install the app on your PC, but to use it from any media, even from a USB stick, as long as the computer account has administrator privileges. For those who want, instead, to install the app on the PC, not using the portable format, you can download the installation from wisecleaner.com.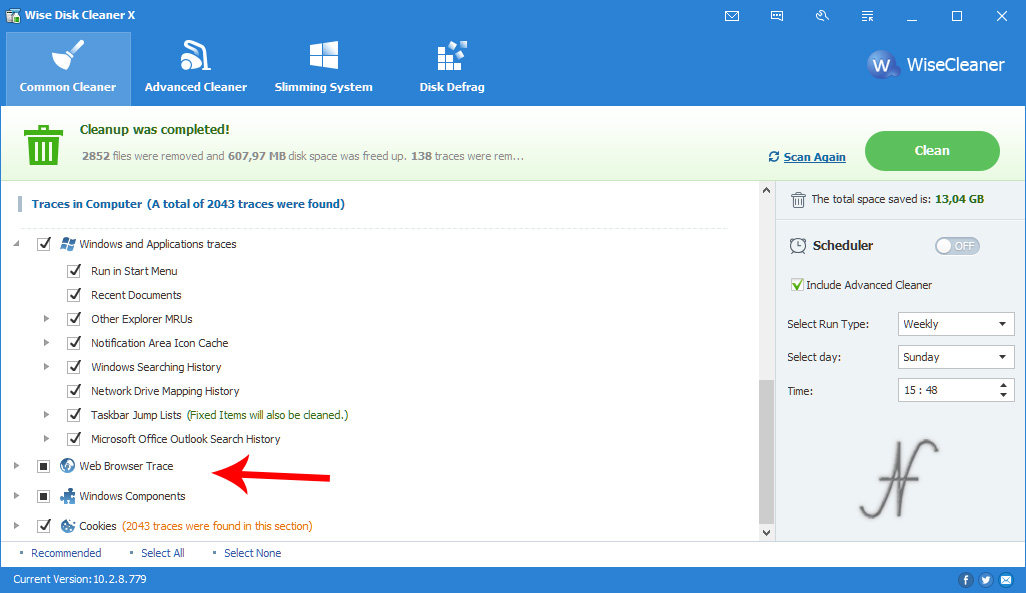 After launching Wise Disk Cleaner, I suggest investing some time to configure the app properly and choose what to delete.
In the section Common Cleaner, in fact, there are several computer cleaning options. Wise Disk Cleaner recognizes some applications installed in your computer and allows you to erase recent data and traces of apps and Windows.
The list of cleaning options is divided into two groups:

Files in Computer;
Traces in Computer.
By navigating through the various cleaning options, it is then possible, for example, to clear the browser cache and history, but without necessarily having to clear saved passwords or filled-out form data.
It is possible to include or exclude, from the cleaning, the data of the various applications present in the PC.
In short, all these choices are up to the user, in order to find the right compromise between privacy and comfort, and must be made before starting the cleaning.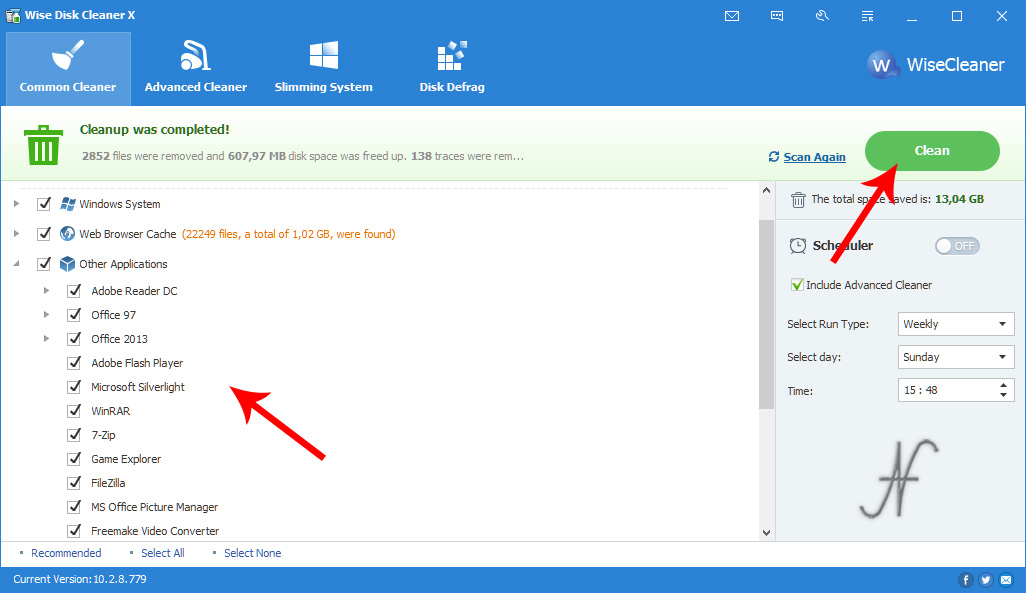 After choosing what to delete, press Scan at the top right to start searching for files and traces to be erased on your computer. Next, the Scan it turns into Clean. Press Clean to start cleaning and permanently remove files and traces of use from your computer.
In addition to the section Common Cleaner, there are other sections that allow you to delete other files and save space on your computer's disk. With Advanced Cleaner, you can find and delete temporary files abandoned by apps in the various folders of the hard disk. Instead, with Slimming System, you can delete any update files that may have been downloaded from the Windows system and already used. For these functions, I recommend to pay close attention, to avoid deleting useful files to the computer.
Finally there is a function that allows you to defragment the hard drive and also boots on SSD (although it can be harmful, as well as not useful, to start defragmentation on SSD).
For completeness, I remember that it is good to have your own account on your computer, protected by a secure password, which should not be shared with other people. If other users use the computer, I recommend creating multiple accounts, possibly also for guests.
In fact, if other users used our account, the privacy issue would not only be related to recent data and browsing history, but would also be related to all e-Mails, Social Network accounts and everything else we keep on the PC!

Do you like this page? Share it: